I have this t-shirt that I bought at the Northeastern bookstore when I started doing my pre-med classes. It's a simple gray with the classic college lettering, and I've intentionally worn and washed it at least once a week since I've owned it in hopes of getting that soft, vintage look and feel of a tee I've had since high school. After a few  million washes, though, I'm still not completely happy with the outcome. How many more years of laundering am I going to have to go through to get that perfect t-shirt?? Answer: none.
Alternative Apparel has managed to create a shirt that is not only sustainable and eco-friendly, but also great to wear.
I purchased my Alternative Apparel Eco T-Shirt from Birchbox Man, who featured them as one of their April products (which, sadly, I was not lucky enough to recieve for "free" in my box that month). Right out of the package this shirt is even softer than that old Northeastern one I have, without the clumping that cotton tends to do after so many trips to the washing machine. It also lacks that thin, sheer look of worn shirts, which I think we can all appreciate.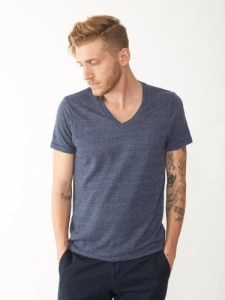 The biggest surprise about this tee has been the fit. I chose the v-neck version, although both Alternative Apparel and Birchbox Man carry crew neck, tank top and sweatshirt versions of the same material. Now, I can't speak for their other products (although I would love to try more of this line!) but I can say I was thrilled with the way the Eco V-Neck fit. Not only is it soft and comfortable, but it doesn't hang like a sloppy old college tee either. The sleeves are cut high, the neck is just low enough, and the body is slim– everything you'd want in a t-shirt you can wear under a leather jacket on date night or to the gym.
I can't say enough about these guys and what they're doing. Sure, $28 for a t-shirt is a little steep when you compare it to the Hanes three pack at Target. But I promise, this WILL be your new favorite.
Don't forget to sign up for Birchbox Man (www.birchbox.com/man) for the chance to get products like this very t-shirt in your monthly box!