If you're anything like me, you despise bathing suit season… And not necessarily for the usual reasons that women hate bathing suit season either. Sure after an entire winter spent binging on pizza and my mother in laws ravioli, I'm not psyched to show a lot of skin. But even that beats the eternal butch conundrum of what to wear to the beach.
For years I played it safe, always opting for board shorts that were far too long and a usually see-through A shirt (tank
top) that left me feeling awkward and surprisingly exposed. But what's even MORE awkward is having to put on some kind of femmie bikini with ruffles and flowers that left me looking like (as my friend says) a confused little boy about to disappoint his conservative asshole father. Finally, a couple of summers ago, I started dabbling in actual bathing suits again.
If you aren't too proud or can be slightly flexible in your masculinity, I've found that wearing a simple two piece in a masculine color without any bells and whistles can be not only sexy, but comfortable and somehow appropriately still butch. I like this number from Target made by Speedo.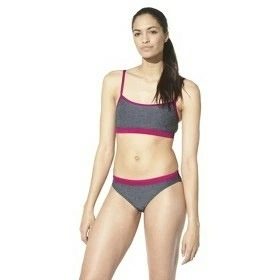 It's a solid, darker color, sporty, and simple. If $50 is a little more than you want to spend (this IS Butch on a Budget after all), then try this one, also from Target for only $15. I actually bought this one in charcoal gray last year.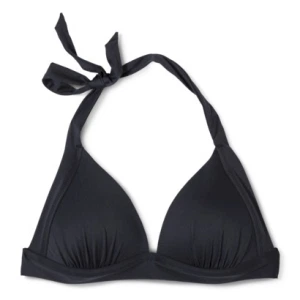 If you aren't into the two piece, try http://www.theswimoutlet.com for a lot of great one pieces. I like a simple, sporty looking suit that offers just a little more coverage, like this one, from Nike.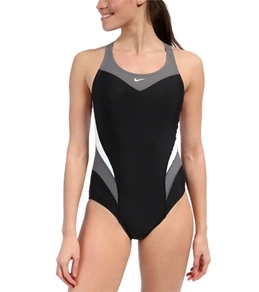 Now onto board shorts…
If you aren't comfortable walking around in your suit bottoms, a good pair of board shorts goes a long way. For the butch on a budget (like myself) I really like H&M's selection. They have a lot of shorts starting at $13 or so and maxing out around $30. Try something in a solid color, like these, from H&M: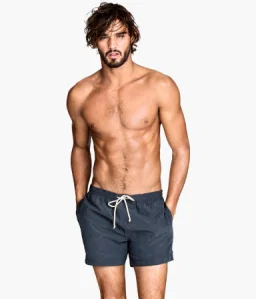 They're extremely versatile, and can actually be worn going to get ice cream, fried clams, or a BBQ.
If you want something a little more adventurous, try these color blocked shorts, also from H&M.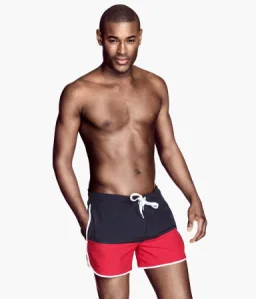 Also check out Zara, Forever 21, and Top Man for a great selection of board shorts. The important thing is length, length length! Your shorts should NOT come down past your knees. And if you're short, like me, you probably want to stick with the super short length as shown above. Trust me, it's a cleaner look and much more JFK than Bieber at the beach.
Finally, you're going to want something to wear over that bathing suit top when you aren't in the water. Tank tops look great on most butches, regardless of size. And right now, slightly oversized, skater-era tanks are big.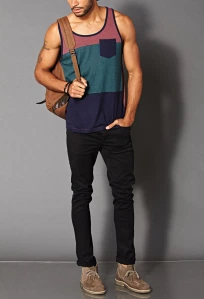 If you're feeling particularly ballsy, geo and southwestern prints are really big this year, like this one from Forever 21.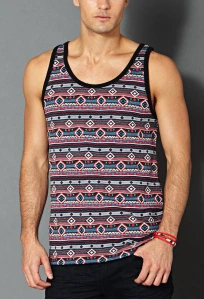 For $15, it definitely fits into the Butch on a Budget's finances. Plus, bonus, Forever 21 Men     is now carrying extra smalls.