I'm starting with this topic because it tends to the bane of the fashionable butch's existence. I know it was mine.
If you're a truly "dapper butch," you probably like dressing up. And even if you don't, it's inevitable you're going to have to do it at some point or another. So how do you navigate the world of Men's Warehouse and Macy's and Nordstrom's (Oh My!) to find something that doesn't make you look like Rosie O'Donnell at the GLAD Awards (no offense, Rosie…)?
When I first came out, I made the gradual transition from girl jeans to cargo shorts, until I was rocking the horrendous 2004 gel-fest known as a faux hawk and singing "I Kissed a Girl" (not really. Katie Perry didn't actually start experimenting until a couple of years later). When it came time to look nice, I always shuttered a little bit, because I wasn't altogether comfortable with ties, never mind a full on men's suit. But since I've moved to Boston (the land of we-don't-give-a-fuck) I've become much more okay with who I am — which usually involves men's clothing. It's taken a long time, though, to figure out the tricks to suit-buying.
If you're in the market for a really great suit (which, let's face it, you really should be), you're going to run into some major problems. In general (and there are exceptions to this rule which I will mention in a minute), men's suits are, well, just that; they're made for men. And, as much as it irks us, men are taller, have bigger shoulders, longer arms, and straighter hips. Oh, and the biggie, they don't have boobs. Guys like Calvin Klein, Armani, and Versace just didn't have masculine-identified women in mind when they started designing! (I know, it's horrible).
But, fear not, my fellow suit-lovers! THERE ARE WAYS AROUND THIS!!
1. Find the right stores-
Seriously. I can't emphasize this enough. There are about a billion menswear brands out there, and they all fit differently. A small dress shirt from Alfani is like, ten times bigger on me than a small dress shirt from Express. Yes, you Stone-Colds out there who hate shopping, you're going to have to try stuff on. Find a brand that works for your body type. If you're lanky, hip-less and flat-chested, you'll find this easier than most. But for those of us who aren't, it's going to take a little more experimenting.
I'm a ginormous 5'1″, and usually wear a size 29 in men's pants and an extra small shirt. Now, I may be bias, but I think I have one of the hardest female body-types to shop for. If you're like me (a little on the petite side), I suggest H&M, Zara, J-Crew and Top Man for starters. And don't even think about reaching for that "regular cut" (gag!). When it comes to suits (and everything, really, if you're in the Lollypop Guild like I am), I have three words for you you must carry with you at all times; SLIM, SLIM, SLIM. Got it? Good. Look for terms like "slim fit," "vintage fit" etc. Trust me on this one– if you have a small frame, anything slim is going to fit you normally, not leave you looking like you just came out of a Fall Out Boy concert with your little brother.
If you're taller, and a little big on the bigger-chested-bigger-boned size, you can basically shop anywhere, with these points in mind: the shoulders should hit at your shoulders. Not halfway down where that tribal tattoo from the 90's is (yeah, I'm talking to you!). Shoulders are KEY, since they are the most expensive alteration your tailor needs to do. Next, make sure it's big enough in the chest area. Suits aren't designed to hold a set of breasts. They just aren't.
Melange Blazer – from H&M
http://www.hm.com/us/s/06EO5V
www.hm.com
See this dude? He's doing it right. H&M has some great jackets in men's sizes, for those of us who aren't pint-sized and are lucky enough to make them look good.
And for all shapes and sizes…Please, for the love of God, leave MC Hammer and Justin Bieber out of this!! That means NO BAGGY LEGGED SUIT PANTS. Honestly, ladies. I can't tell you how many times I've seen this. Your pants should not flow freely in the wind. They just shouldn't. Keep them snug, and fitted, like everything else, or you will look ridiculous. Period.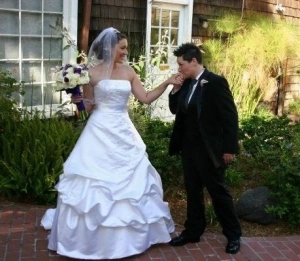 I adore Casey (come on, who doesn't want to be part of that relationship??). And the above is a great example of a suit looking dank on a larger chested woman. I am not, however, a huge fan of the sleeve length, or how baggy the pants are. Slim, folks. Slim. Also, the sleeves should hit just below your wrist. Bonus points if you show off an inch of your sleeve cuff.
Now, I'm going to suggest something rather extreme. Something that has proven successful for me for a while now….
2. Shop in the kids section!
I know, this sounds crazy/a little sick. But it works. If you're small enough to get away with it, do it. It's cheaper, and odds are a boy's size 14 is going to fit you better than a men's 36R (which is usually the smallest suit jacket size you can find in most stores). This is me, in my favorite suit I wore in my best friend's wedding this fall (and to, like, five days of PA school interviews… which brings me to my side point– DRY CLEAN, kids…).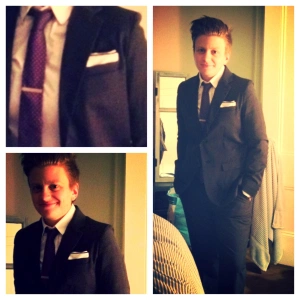 3. Tailor, tailor, tailor!!!
Did I mention tailor? This is, by far, the single most important thing you can do to get a suit to up your swag. I found this great little Armenian guy named Richie who works out of a tiny hole-in-the-wall in downtown Boston. He charges exorbiant amounts of money, but my stuff comes back looking flawless. There is (almost) no such thing as a suit that fits off the rack. Especially if you're a female! So find yourself a Richie, and make him your best friend (if I sent Christmas cards out, Richie would definitely make the list). Don't be surprised if you end up paying more to tailor the suit than you paid for the suit itself. The above Zara outfit cost a total of $125, and I think I paid another $200 just in alterations. A good tailor will be able to take in the waist (just because you're soooo butch doesn't mean your clothes shouldn't fit), hem the legs, take up the sleeves (because there's nothing worse than a suit jacket that's too long), and even take up the pant pockets. This is a must. So if you skimp on anything, don't let it be the tailoring.
4. Finally, own that shit.
There's nothing sexier than someone who knows they look good (unless you're a dick about it… then you're just gross. Ew). Walk down the street like the dapper butch you are, and expect to get a ton of compliments.